My friend Joanna Smiejka - Poland (Autism Spectrum Educator & World Pulse Digital Change Maker) visits Dubai, UAE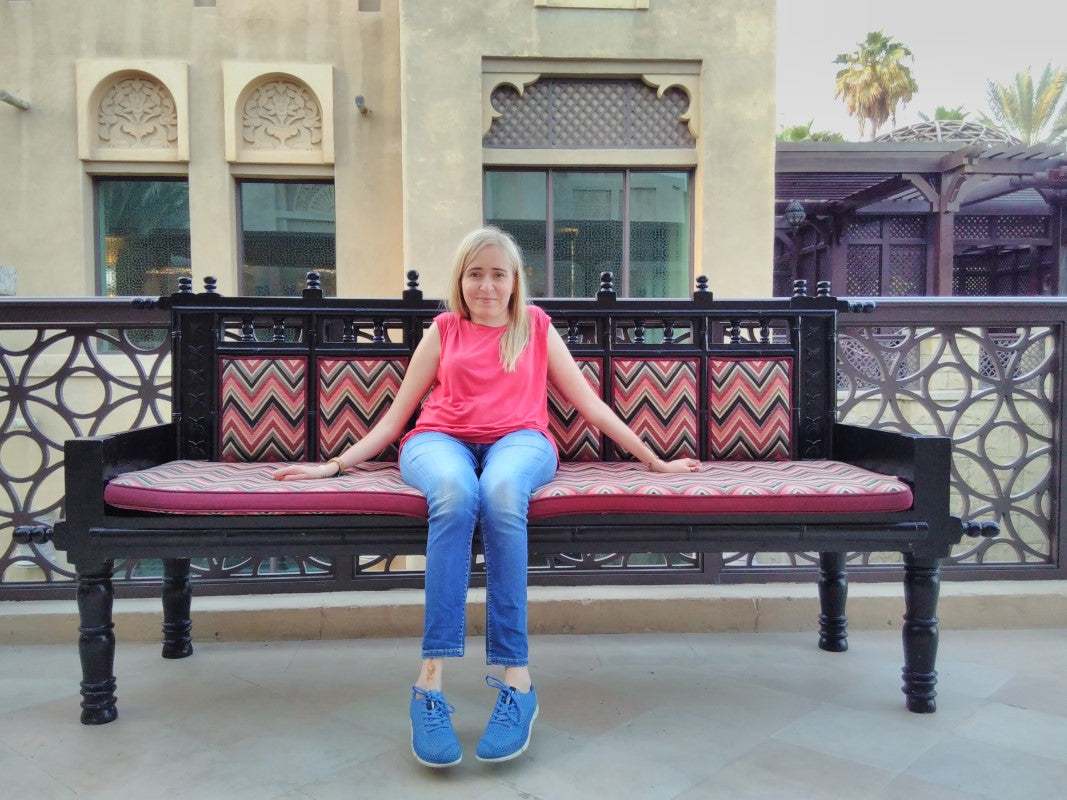 My friend Joanna Smiejka - Poland (World Pulse Digital Change Maker) visits Dubai, UAE
On the 17th October 2017 my friend and World Pulse Digital Change Maker Joanna Smiejka came to visit me in Dubai and we celebrated Anti-Poverty Week 2017.
We had a great time and she thoroughly enjoyed her first visit to the United Arab Emirates. I hope there will be many more!!!
UPDATE MARCH 2018
Jo has recently established the first Austim Spectrum Centre in Warsaw Poland!
Heartfelt Congratulations Jo...:)
INTERVIEWS
I am grateful to Jo for recording these interviews in English, Polish and being a great sport at teaching me Polish and learning Urdu.
We hope you will enjoy them as much as we did recording them. 
Jo and Sabeena's introduction for World Pulse!
Jo's interview in English
Jo's interview in Polish 
Jo and Sabeena learn teach each other Polish and Urdu
Jo and Sabeena say goodbye
Photographs of Jo's visit to Dubai, UAE - October 2017
Jo eating a delicious date filled with pistachios
Jo's first experience of Diwali and Rangoli
 Jo admiring the colourful rangoli
Vibhuthi artist extraordinare and my neighbour creating beautiful Rangoli's
Joanna at Dubai Creek
Jo taking a few shots at Madinat Jumeirah
Jo relaxing at Madinat Jumeirah, Dubai, UAE
Jo and I supporting Anti-Poverty Week 2017, Dubai, UAE
Jo supporting the 10 Principles of Fair Trade
About Joanna
Joanna is a qualified lawyer, behavioural psychologist and Austim Spectrum educator and trainer.
I met Jo online while mentoring for the World Pulse Digital Change Maker Programme February to June 2017.
Joanna is passionate about teaching, travelling and photography.
She hopes to establish the first Austim Spectrum Centre in Warsaw Poland in the near future.
I wish her every happiness and success! 
It was a pleasure having you stay with us Jo. We look forward to seeing you again very soon.
World Pulse
Late December 2016 I decided to apply as a World Pulse Change Maker. I sent my application and hoped for the best.
I received a message from the World Pulse team early January 2017 to inform me that I had been selected as a World Pulse Vision Mentor.
I was surprised by their message as I didn't believe I was qualified to mentor anyone.
I said ''YES!''
As they say, the rest is history.
My Change Maker is Joanna Smiejka from Warsaw, Poland.
Joanna is 30 years old, is double psychology graduate and an autism specialist/therapist/shadow teacher and trainer.
Joanna has lived with her disability and has overcome it with the support of her family, friends, peers and colleagues.
She is a ''TRUE INSPIRATION'' and would like to share her passion, her teaching to assist children with autism to fulfil their dreams and ambitions.
Unfortunately, autism is an area of education which is under resourced and under funded in her country.
Joanna spent 10 months working abroad with two organisation based in California, US and Wales UK specialising in autism.
To read more about Jo please click on the link her Girls Compete, Women Empower and Beautiful Minds Inspire Blog.
World Pulse Vision Mentor Update - May 2017
World Pulse Vision Mentor Update - April 2017
World Pulse Vision Mentor Update - March 2017
World Pulse Vision Mentor Update - February 2017
Further Reading and Links