Odylique 3 in 1 Maca Mask and Balancing Citrus Super Tonic review with Sabeena Ahmed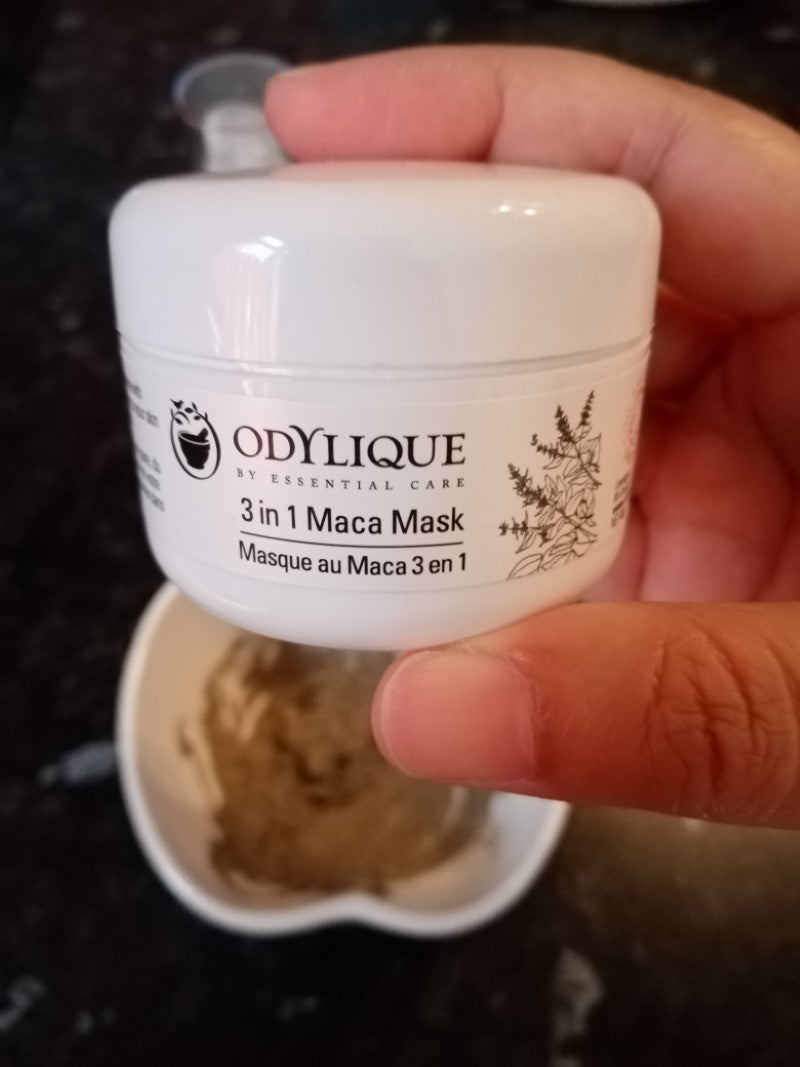 Review of Odylique 3 in 1 Maca Mask and
Balancing Citrus Super Tonic
For past two years (2018-2020) my skin has been awful. By awful I mean weekly breakouts, large blind cystic acne and rosacea.
My decision to stop using Decleors wasn't thought out carefully and I failed to find a skin care range suitable for my acne prone sensitive reactive skin.
I have found that the Odylique 3 in 1 Maca Mask has helped to clear my pores.
As a fairtrade campaigner I believe it is my duty to support fairtrade organisations using fairtrade ingredients in their products and for this reason I have searched long and hard for products that suit my acne reactive skin. 
The Odylique 3 in 1 Maca Mask uses Fairtrade sugar cane.
I am relieved to have found a mask that works for my skin.
I apply the Odylique 3 in 1 Maca Mask to my skin every 4-5 days which is particularly helpful before you feel a cystic bump appear before your menstrual cycle.
Product: Odylique 3 in 1 Maca Mask and Balancing Citrus Super Tonic
Odylique Maca 3 in 1
 Odylique Maca 3 in 1 and
Balancing Citrus Super Tonic 
Odylique Maca 3 in 1 and Balancing Citrus Super Toni review by Sabeena Ahmed
Verdict: Once again I was apprehensive to these products. I needn't have worried.
The Maca Mask is a must have for all cystic/acne sufferers.
I restarted using the mask and tonic once a week and can honestly say my skin feels smooth, rejuvenated and nourished.
It is a little messy making the correct consistency but who cares its natural and organic.
The mask and toner combined leave a tingling sensation on your face.
I leave the mask on my face until it is dry and wash with warm water.
I would highly recommend both these products to those who suffer from adult cystic acne, sensitive and reactive skin.
ODYLIQUE 3 IN 1 MACA MASK
ACTIVE INGREDIENTS: 
Purifying, mineralising Clays, Polishing Sugar Cane (Fairtrade),
Replenishing amino acid-rich Maca, Revitalising Vitamin C and 
Mineral Rich Boabob, Soothing and antioxidant Oat, Toning Mint and Myrtle.
Diet and Lifestyle, March - December 2020
For the past 9 months I have tried to improve my diet and lose weight in the process.
I have gradually stopped eating dairy, this includes Almond milk in my porridge, I have consciously removed cheese from my diet and have reduced my consumption of red meat, biscuits and chocolate. Dark Chocolate 60-70% is still my weakness. 
I have increased my intake of fresh fruits and veggies in particular broccoli, carrots, sweet potato and salads and decided to eat gluten free bread and pastries wherever I can find them.
I plan to take seed cycling at the end of this year and continue in the New Year.
I also plan to walk and take up more activities to help with my shoulders circulation and mobility once this pandemic is over.
Garden salad with walnuts
Photo Gallery 2021
Late June 2021 - 24+ Weeks of Using Face Theory 
My face is much clearer and compliments from my brother
Skin has improved but attention is required for the cyst above my jawline.
There is still some hyper pigmentation and a large cyst remains on my jawline which will need to be treated by a dermatologist.
Conclusion
I'm really pleased that I ordered the Odylique Maca 3 in 1 Mask and the Facetheory Acne range.
The reduction in breakouts has been noticeable and I feel my skin has improved in texture and my pores have decreased around 50%.
My blind cysts have reduced in size but the hyperpigmentation is frustrating stubborn.
Its been a rough three years struggling with cystic and hormonal acne.
Due to my sensitive skin it has only been possible to use the Facetheory range once a day.
I'm incredibly impressed with the Odylique 3 in 1 Mask which has helped to clear and clean my clogged pores. 
I am relieved to find two skincare product ranges that help prevent cystic and hormonal acne and have not caused major contraindications.
I hope to continue with my new skin care regime, dairy and gluten free diet and start exercising to improve my circulation and stamina.
A few trips to the dermatologist may help with my stubborn cystic acne.
June 2021 Update 
I am relieved and happy to report that after 6 months of continuous use of the Face Theory Acne range and Odylique Maca Mask my skin has improved.
The texture of my skin is visible, I can see the size of my large pores has improved and the redness and hyperpigmentation flare ups occur less often.
I have worked hard everyday and have religiously used these products on a daily/weekly basis.
I have also changed my diet, reduced dairy, decreased my red meat intake and eat a gluten free diet. I try to drink more water and eat less chocolate and sugar.
I hope to start exercising again once I have the energy.
I would definitely encourage other individuals who struggle with hormonal acne to try the this combination.
Living with adult acne is challenging, frustrating and painful, but I would like to offer hope to anyone struggling with cystic acne.
You are not alone and help is available to you.
Contact your GP who will refer you to a dermatologist and start your journey to clear healthy glowing skin.
 About Odylique
During 2016 I had a couple of lovely online conversations with Abi Weeds Managing Director and Emma Hopewell of Odylique - Essential Care (Organics) Ltd.
I was particularly interested to support Odylique as it is a leading brand of cosmetics and natural skin care based in the United Kingdom. The company prides itself on promoting their organic, vegan, fairtrade, cruelty free ethos and specialise in treating problematic sensitive, reactive and allergy prone skin.
Abi explained how the company was established by her mother Mrs Margaret Weeds over 30 years.
All Odylique products are Soil Association Organic certified and the brand has won numerous awards for their pioneering products, best of all they are cruelty free so you can wear them with pride knowing that they have been tested on other individuals with sensitive prone skin like mine and yours. Their products are suitable for children.
As a long term suffer of adult acne, 20 years to be precise, I was excited and anxious to use their products.
To be very honest, I don't wear make up because I've always endured painful acne and sensitive skin. I don't know how to apply make up and am very weary of cosmetics that contain parabens such as, methylparaben, propylparaben, butlyparaben, triclosan, triclocarbon, and diethylphthalate (DEP), sodium lauryl sulfate (SLS) and (SLES) sodium laureth sulphate that are linked to breast cancer. I have also learnt it is better to avoid products that list fragrance or parfum.
Since my mothers passing last year I feel its my duty to educate others about the dangers of applying toxic chemicals on our delicate skin and its been therapeutic conducting research about the alternative organic, vegan, socially conscious brands that are available on the high street. For those who are more adventurous do it yourself recipes are widely available online.
Abi and Emma kindly sent me a box of cosmetics to try and I have recorded and posted photographs of my photoshoot during 2016/2017 in the blog below.
You will be pleased to learn that all their products were suitable for my adult acne, sensitive, allergy prone skin.
For those interested Odylique were the number one cosmetic company featured in Ethical Consumer UK magazine many times and have won numerous awards.
Further Reading and Links 
My Acne Journey with Sabeena Ahmed
Living with PCOS and Endometriosis
Odylique Product Review and Photo Shoot