World Fair Trade Day 2017 - Dubai, United Arab Emirates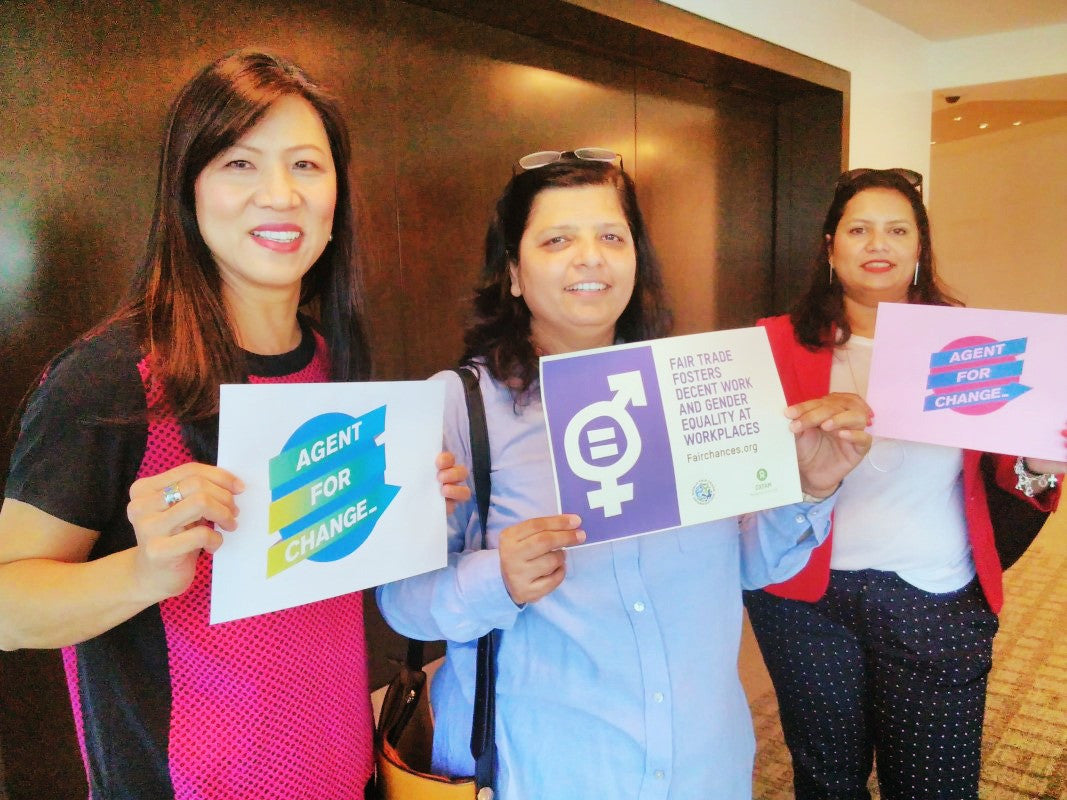 WORLD FAIR TRADE DAY 2017
DUBAI, UNITED ARAB EMIRATES
WORLD FAIR TRADE DAY - DUBAI, UAE
This years World Fair Trade Organization campaign was 'Agent For Change', Human Chains for Fair Trade and the Planet.
I am very grateful to the beautiful ladies at the Dubai Business Women Council who very kindly modelled the Agent for Change posters for me.
 Agent for Change badges designed by Mrs Helen Barlow Scott at the One Line Design Studio
Beautiful Agents For Change supporting World Fair Trade Day, Dubai, UAE
Wonderful fairtrade supporters in Dubai celebrating World Fair Trade Day, UAE
Amazing Agents for Change celebrating World Fair Trade Day,
Dubai, UAE
Dr Sara Parker, John Moores University Liverpool -
Agent for Change in Liverpool and Manchester, United Kingdom
WFTO'S INVITATION TO SEND PHOTOGRAPHS AND VIDEOS 
The World Fair Trade Organization had asked fairtrade producers and organisations to send their photographs and videos of their human chains.
I've attached a few videos below for you to watch at your leisure.
World Fair Trade Organization Trailer - Human Chain Invitation
World Fair Trade Day - Phnom Penh, Street 240
World Fair Trade Day with Divine Chocolate
World Fair Trade Day 2017
WHAT DOES FAIR TRADE MEAN?
Fairtrade very simply means social and trade justice for all!
Fairtrade is a simple way each one of us can make a difference through our everyday choices.
It's about better prices, decent working conditions, local sustainability, and fair terms of trade for farmers and workers in the developing world.
Fairtrade aims to enable the poorest farmers and workers to improve their position and have more control over their lives.
On top of the agreed Fairtrade minimum price producers also receive the Fairtrade premium.
How it's spent is voted on democratically by farmers and workers.
This is development as decided by the people who will benefit from it.
After all, they're the ones best placed to make it work the hardest. Roads have been laid, nurseries equipped and helpful new tools have been put to work all thanks to the Fairtrade premium.
For those who would like to learn more I recorded a video about fairtrade and have attached the video below
WHAT IS FAIR TRADE?
THE TEN PRINCIPLES OF FAIR TRADE
WFTO AND THE 10 PRINCIPLES OF FAIR TRADE
FAIR TRADE IN DUBAI & ABU DHABI, UNITED ARAB EMIRATES 
Fairtrade Mums at the Home Grown Children's Eco Nursery,
Dubai, UAE
If you are a teacher, educator, parent or part of an interfaith group I would love to hear from you. 
Please contact me by leaving a message and commenting below and writing to your fair trade towns coordinator to learn more about how you can get involved with fair trade.
At present I'm trying to establish a fairtrade educational and interfaith network in Dubai.
Children at the Star International School, Mirdif, Dubai
with Sabeena Ahmed learning about fairtrade bananas
WHEN YOU'RE OUT AND ABOUT BEING ETHICAL IS SO EASY
With the help of my creative director Helen we've created a little reminder of how easy it is to support fairtrade producers and be ethical at the same time.
We hope you will find it useful.
Helen Barlow Scott and Sabeena Ahmed, Agents for Change in Dubai, UAE
Apologies for the small font I will ask Helen for HD version soon.
TOP 10 TIPS TO FAIR TRADE AND ETHICAL SHOPPING
1. Seek Fairtrade, organic, slave free and eco friendly labels.
 2. Support socially conscious brands.
3. Buy only what you love and be selective
and ask 'Who made my clothes?'
'Do I really need to buy it?'
4. Do your research if you can't see where the product is made the company does not want to know.
5. Think beyond the end result where did the sourcing happen and what is product made of?
6. Reduce waste by avoiding disposable products.
7. Shop locally and support independent designers and boutiques.
8. Shop vintage and upcycled for truly unique products.
9. Speak up - ask designers and shops where their products are made.
10. Make it yourself and impress your friends with your new found skills.
HAPPY SHOPPING, SEWING AND CRAFTING! :)
Thank you once again to all the ladies at the Dubai Business Women Council for celebrating World Fair Trade Day with me.
Best wishes to all fairtrade producers, artists, supporters, volunteers and friends around the world for being the voice and change for social, environmental and trade justice.
RESPECT, STAY STRONG, PEACE AND BLESSINGS!
Sabeena :)
Sabeena Ahmed, Agent For Change celebrating
World Fair Trade Day 2017
Further Reading and Links
World Fair Trade Organization (WFTO)
Future Learn - Social Enterprise Turning Ideas into Action with The Middlesex University Business School, London, UK