Six Items Challenge 2020 - Labour Behind The Label with Sabeena Ahmed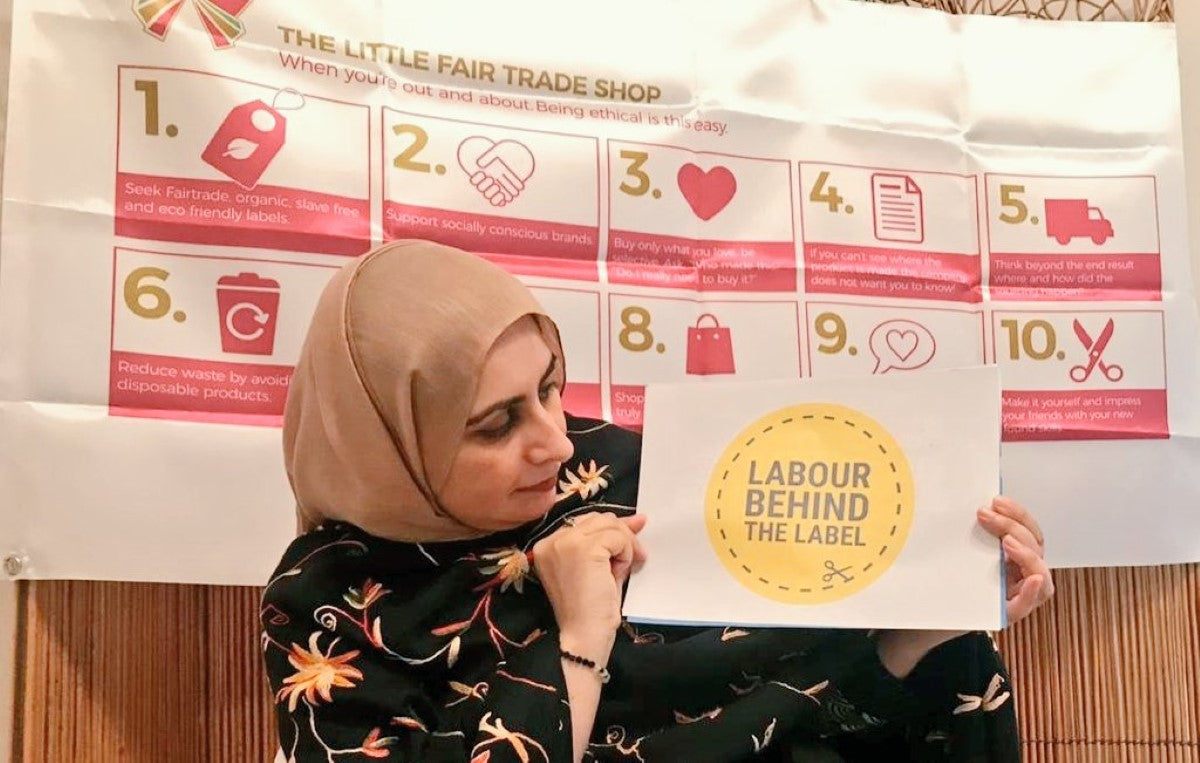 SIX ITEMS CHALLENGE 2020
WITH LABOUR BEHIND THE LABEL
I'd like to begin this blog with love and gratitude for my beloved grandmother who returned to her maker March 2020.
IN MEMORIAM
 With my beloved grandmother Shamsun Nisa who returned to her maker during the Six Items Challenge 2020
Thank you for being the strong selfless woman who inspires my soul.
You taught me to live my life with dignity, honesty and compassion.
Miss you and love you always Nani! X
SIX ITEMS CHALLENGE 2020 GALLERY
Sabeena at the beach supporting the Six Items Challenge 2020
with Labour Behind The Label, Dubai, UAE
Items 1&2 black embroidered cotton dress and black trousers
 Sabeena and her fairtrade bag
Sabeena on the beach near Burj Al Arab
Black cotton traditional Pakistani dress purchased by my late mother
(item no 3)
My items of clothing 
 Clothes for the fashion fast
SIX ITEMS CHALLENGE 2020
WITH LABOUR BEHIND THE LABEL
Hello and Assalaam Alaikum (peace and blessings) everyone,
Thanks for dropping by.
So here I am for the eighth consecutive year participating in the Six Items Challenge with Labour Behind The Label.
This year the challenge commences 26th February - 9th April 2020. 
I have decided to participate and support the Six Items Challenge for the eighth year because I started to campaign for garment and factory workers while caring for my mother who had been diagnosed with metastatic breast cancer.
The six items challenge means I choose six items of clothing to wear for six weeks.
Don't worry!
This does not include under garments or exercise gear. You can wear an endless supply of these. :)
This year I hope to up-cycle some of the clothes my mother purchased for me before she passed away.
It is a long term ambition to design a fairtrade slow fashion collection in memory of my beautiful mother Mrs Meshar Mumtaz Bano and support fair trade certified cotton farmers, sustainable and ethical producers.
My beloved mother was a great advocate for women's empowerment and education.
I believe she would have been happy and proud of me to continue my campaigning for the millions of countless individuals producing clothes and accessories in factories and workshops around the world.
Hopefully by the end of the Six Week Challenge I would have educated a few people and raised a few pounds/dirhams.
WHAT IS FAST FASHION?
Fast fashion is a term the fashion industry uses to entice consumers to purchase new trends, products and accessories every six to eight weeks. Some collections can be produced within a 12 day time frame.
Most of the products are cheap, poor quality and mass produced by workers in factories, work shops around the world.
Workers are paid low salaries, endure long hours and work in poor conditions to support their families.
Many are as young as 14 are the only bread winners and often forfeit the chance of a decent education and future
Many factories use hazardous chemicals to dye their fabrics and this water is discharged into rivers and the sea polluting eco systems and depleting fish stocks.
I hope to record vlogs and raise awareness about garment workers over the next coming weeks.
Best regards to all the Six Items Challenge participants.
Love and regards
Sabeena X
WEEK ONE - Introduction to the Six Items Challenge 2020 (English)
WEEK TWO - What is Fast Fashion? (English) 
WEEK THREE - The Six Items Challenge 2020 and What is Fast Fashion? (Urdu)
At the end of week 3 I had surgery for a ruptured cyst.
Please don't worry I haven't posted any photographs of my surgery.
My Recent Surgery (March 2020)
March 2020 I was admitted to hospital after a few weeks of excruciating pain in my left ovary.
After a CT scan I was told I had a cyst and required urgent surgery.
My cyst was removed 17th March 2020.
My consultant informed me that the cyst had ruptured and had welded itself to my colon and left ovary. He removed the white ruptured cyst cleaned me up, but could not see any signs of Endometriosis or PCOS due to the inflammation.
I was in two minds about attaching photographs of my ruptured cyst and decided not to.
WEEK FOUR - My Endometriosis and PCOS Journey - (English)
We were under lockdown or lock in as I prefer to call it during the last two weeks of the fashion fast.
As the Corona Virus (Covid 19) pandemic spread around the world and we all stayed indoors for safety and support for key workers.
WEEK FIVE - Labour Behind The Labour
Covid-19 Campaign (English)
WEEK SIX - My Six Items of Clothing and Thank You! (English)
Covid-19: Call on brands to step up and protect the people who make their clothes
Labour Behind The Label are calling on big brands to protect all workers in the supply chains and #PayUp.
WHAT YOU CAN DO?
A Living Wage is a Human Right. Sadly there are many big brands who are refusing to commit to paying for orders completed or in production due to the Corona Virus pandemic.
Please sign the petition, share widely and tell the Big Brands to #PayUp!
The Clean Clothes Campaign has also launched a campaign for garment workers to be paid.
The poster below states the brands who have made no commitment to pay in full for orders completed and in production.
The Clean Clothes Campaign to urge brands to pay in full for completed orders and those in production
Millions of garment workers around the world are left without income because the global garment supply chains that employ them practically collapsed when the #COVID19 pandemic hit.
The first step for garment companies towards doing the right thing towards workers is pretty easy: just pay for what you ordered in the first place.
If garment companies don't #PayUp, how will workers get their wages?
Gap Topshop Urban Outfitters C&A Mothercare UK Tesco - uk Kohl's JCPenney VERO MODA Walmart Primark ASOS Asda
To learn more click the link here.
Dominique Muller - Labour Behind The Label
If you feel inspired, sign up and take the challenge with me next year. 
Helen Barlow Scott and Sabeena Ahmed
WHEN YOU'RE OUT AND ABOUT BEING ETHICAL IS SO EASY
video here
With the help of my creative director Helen we've created a little reminder of how easy it is to support fairtrade producers and be ethical at the same time.
We hope you will find it useful.
TOP 10 TIPS TO FAIR TRADE AND ETHICAL SHOPPING
1. Seek Fairtrade, organic, slave free and eco friendly labels.
 2. Support socially conscious brands.
3. Buy only what you love and be selective
and ask 'Who made my clothes?'
'Do I really need to buy it?'
4. Do your research if you can't see where the product is made the company does not want to know.
5. Think beyond the end result where did the sourcing happen and what is product made of?
6. Reduce waste by avoiding disposable products.
7. Shop locally and support independent designers and boutiques.
8. Shop vintage and upcycled for truly unique products.
9. Speak up - ask designers and shops where their products are made.
10. Make it yourself and impress your friends with your new found skills.
HAPPY SHOPPING, SEWING AND CRAFTING! :)
More Questions we all need to ask ourselves...
Think twice when out and about conducting that much needed retail therapy.
Do you really need that skirt, blouse, dress, shoes, bags?
Could you purchase an ethical alternative that supports artisans, doesn't exploit animals and protects the environment?
IF the answers are yes than find out where the shops are in your local area.
Do you have a creative streak?
Why not upcycle that old blouse, dress or jacket you just can't throw away. Take up sewing or enrol on a fashion design course at your local college maybe even invite a friend or two.
Alternatively, if like me you like a good bargain, how about walking down to your local charity shop, visit your local car boot sale or donate your clothing to organisations who support millions without adequate clothing.
A recent survey indicated that American consumers throw away 68 pounds of clothing in their lifetime. Clothes and accessories that take years to decompose in landfills.
Why not host ''The True Cost'' a documentary showcasing fast fashion and the treatment of garment workers around the world and organise a clothes swap.
Why wait?
Start today...inspire others and be an ethical conscious consumer, support garment workers, fairtrade and ethical producers receive a decent living wage and good working conditions.
Thank you for reading and Congratulations to the Sixer's who participated in the Six Items Challenge 2020.
I look forward to next year.
Love and regards
Sabeena
Further Reading and Links
Dawn News - Workers Protest for payment of wages, dues in Karachi
The Nation - Coronavirus at the Bottom of the Supply Chain
Ethical Corp.Com - Millions of garment workers face destitution as fashion brands cancel orders