SheTrades MENA Launch - Dubai and the United Arab Emirates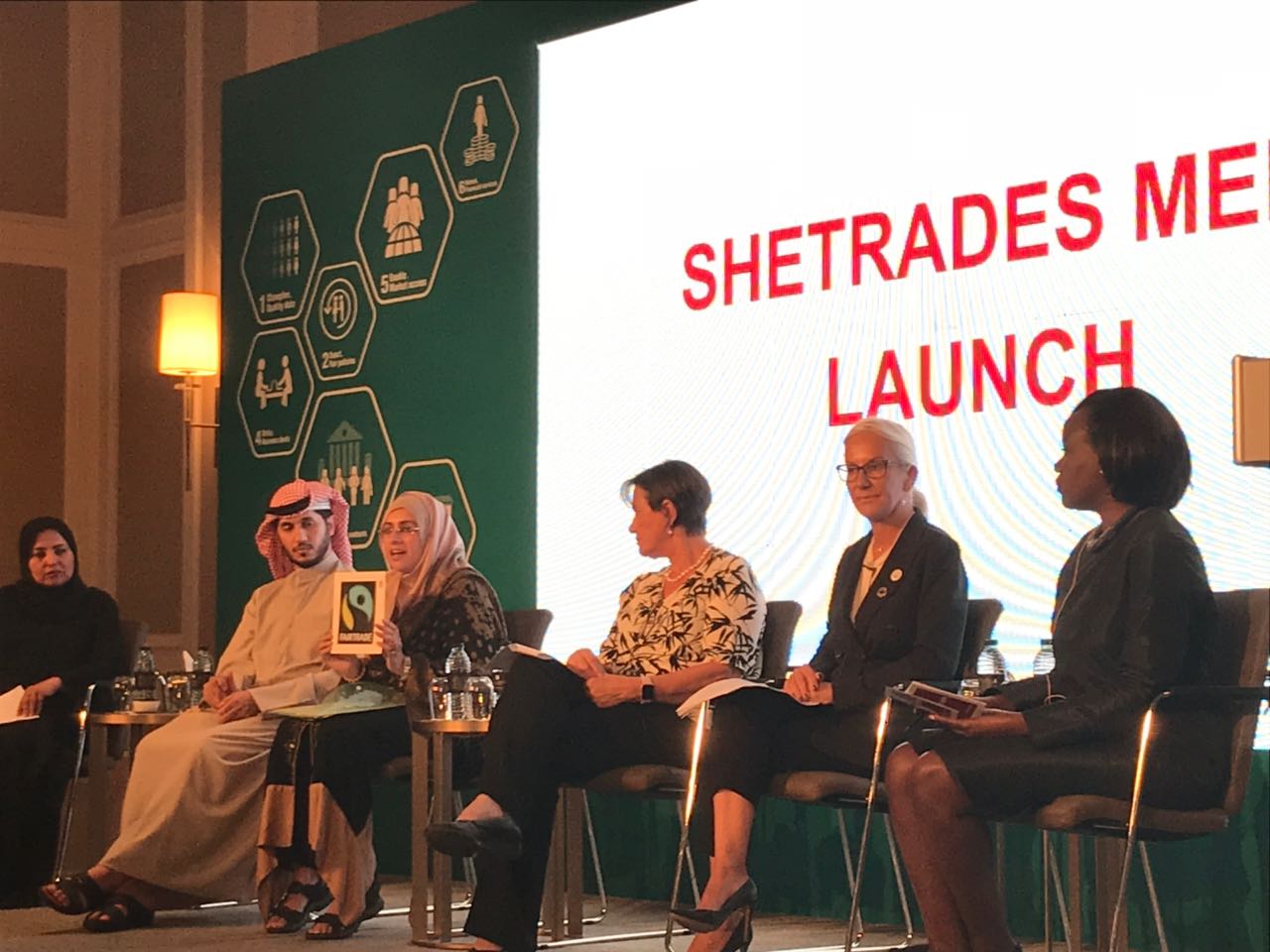 SheTrades MENA Launch
By sheer chance and after a coffee with Ms Arwa Hassan Al Qassim of Dubai Culture I was politely asked if I would like to be a panelist at the SheTrades MENA Launch. I said YES!
Many thanks to Dr Ashraf Mahate Chief Economist at the Government of Dubai and Dubai Exports and Ms Al Qassim Dubai Culture for providing me with a platform to talk about my passion FAIR TRADE.
I cannot deny it was a nerve wracking experience and exciting event to attend.
Many thanks to Anna and Vanessa for being very kind and considerate.
Thank you to all the lovely ladies who wrote in my guest book.
Watch the video of the official launch here
Photograph Courtesy of ITC
His Excellency Sami Al Qamzi, Director General of the Department of Economic Development (DED), and Ms. Arancha González, Executive Director of the International Trade Centre, launched the Hub alongside the regional meeting of the Arab Countries Trade and Investment Organizations Network (ACTION), hosted by Dubai Exports in partnership with ITC and the support of the Aid for Trade Initiative for Arab States (AfTIAS).
MY ALBUM
 The Stage at the SheTrades MENA LAUNCH
Ms Anna Claudia Zaleski Mori ITC SheTrades Initiative, International Trade Centre
Ms. Vanessa Erogbogbo, Head of the ITC SheTrades Initiative, International Trade Centre and ME!
L-R: Panellists
Ms. Mariam al Shamsi, Managing Director, Munch-n-crunch,
Mr. Saeed Karbash, Deputy CEO, Dubai Islamic Economy Development Center
ME!
Ms. Stevi Lowmass, Founder, Camel Milk Soap Company
Ms. Iris Van Der Veken, Director of International Public Affairs, Dubai Multi Commodities Center
Moderator:
Ms. Vanessa Erogbogbo, Head of the ITC SheTrades Initiative, International Trade Centre
 Here I am talking about Fair Trade and the Fair Trade Mark
Ms. Iris Van Der Veken, Director of International Public Affairs, Dubai Multi Commodities Center and ME!
About SheTrades
A GOAL: Connect 1 million women to market by 2020
Women's economic empowerment is not a matter for government policy, the private sector, or civil society alone. All have critical roles to play. This is why the International Trade Centre (ITC) has launched the SheTrades initiative, which seeks to connect one million women entrepreneurs to market by 2020.
Having more women in the marketplace has a positive impact businesses in all sectors and the women themselves who benefit from a larger workforce, more competition, and as a result more choices between better products.  In fact, the McKinsey Global Institute estimates that advancing women's equality could add US $28 trillion to global GDP by 2025, enabling economies to unlock their full potential –and SheTrades is the key.
A BLUEPRINT: Seven global actions to ensure success
While women's economic empowerment has been on the global development agenda for almost two decades, knowledge about female entrepreneurship has been fragmentary, and the business and economic cases have not been fully articulated. Our months' long consultations in 2015 with thought leaders around the world sought to ramp up the trajectory towards eradicating extreme poverty by 2030. These consultations revealed that a key challenge is the persisting silos between the various actors working in this area, as well as the substantive components of women's enterprise development including research, policy, finance, access to markets and capacity building.
Stakeholders ranging from financial institutions to research and multilateral organisations are called upon to collaborate with ITC to expand opportunities for women entrepreneurs by making specific, actionable pledges.  Click an icon below to become a part of the movement and join SheTrades as we continue to drive policy changes that scale-up women owned businesses.
Source: SheTrades
About Dubai Exports

Dubai Exports, an agency of Dubai Economy - Government of Dubai, commenced operations in 2007. As part of the Economic Development Department of Dubai, its mandate is to facilitate trade from Dubai and establish itself as a world-class export development and promotion body by creating an enabling environment for Dubai's exporters. Dubai Exports has developed a range of value-added trade support services to UAE-based firms exporting through Dubai, for accelerated and profitable expansion of their businesses in foreign markets.
Source ITC
About ITC

The International Trade Centre is the joint agency of the World Trade Organization and the United Nations. ITC assists small and medium-sized enterprises in developing and transition economies to become more competitive in global markets, thereby contributing to sustainable economic development within the frameworks of the Aid-for-Trade agenda and the United Nations' Sustainable Development Goals.
For more information, visit www.intracen.org
Source ITC
Women Do Business: She Trades Global 2018 Liverpool UK
Courtesy of ITC
Further Reading and Links
Dubai Islamic Economy Development Center