March 2017 - Video Blog Newsletter Summary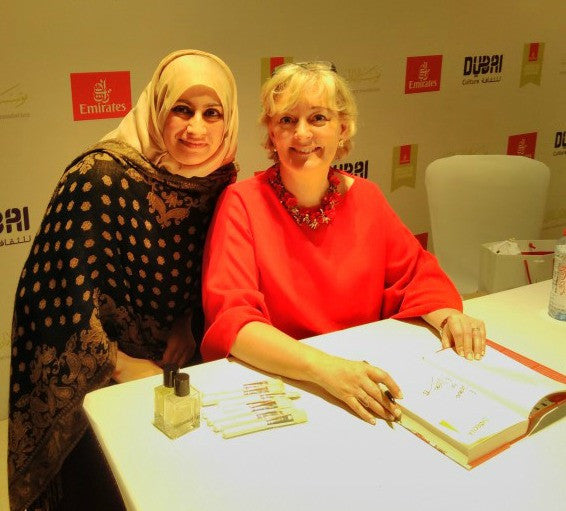 March 2017 Video Blog Newsletter Summary
This month I continued my Six Items Challenge 2017 with Labour Behind The Label.
Received an edited version of my interview with my Creative Director Mrs Helen Barlow Scott of The One Line Ethical Design Studio.
Attended two events at the Emirates Airline Literature Festival.
Met Jo Malone and presented her with fairtrade chocolate and a fairtrade breast cancer bag produced by ladies at Friends Handicraft Nepal.
Attended the BE BOLD FOR CHANGE event at the Dubai Lit Fest.
Conducted an impromptu photoshoot for Odylique and the Six items Challenge.
 Enrolled on the WFTO Asia's Course - Building Capacity for Gender Equality designed by Tanya Lutvey.
SIX ITEMS CHALLENGE 2017 WITH LABOUR BEHIND THE LABEL
So for the sixth consecutive year I am participating in the Six Items Challenge with Labour Behind The Label.
This year the challenge commences 1 March - 24 April 2017.
The Lilfairtrade Shop's Six Items Challenge 2017 Page.
https://sixitemschallenge2017.everydayhero.com/uk/the-lilfairtrade-shop#...
Why I'm here?
I have decided to participate and support the Six Items Challenge for the sixth year because I started to campaign for garment and factory workers while caring for my mother who had been diagnosed with metastatic breast cancer.
The six items challenge means I choose six items of clothing to wear for six weeks. Don't worry! This does not include under garments or exercise gear. You can wear an endless supply of these. :) 
For my challenge I've decided to wear one glamourous outfit as prescribed by my mother, a plainer everyday cotton Pakistani traditional costume and a hand embroidered cotton kameez (long blouse) and trousers designed and created by a female entrepreneur called Haseena.
INTERVIEW WITH MRS HASEENA AT THE RA'ANA LIAQUAT CRAFTMEN'S COLONY, KARACHI,PAKISTAN
I interviewed Haseena at the Ra'ana Liaquat Craftmans Colony, Karachi, Pakistan during March 2015. 
Haseena is originally from Balochistan and is determined to raise the profile of Balochi traditional embroidery. I am honoured to support her and her business.
This year I hope to design a clothes range in memory of my beautiful mother Mrs Meshar Mumtaz Bano and support fair trade certified cotton farmers and ethical producers.
It's been a difficult 9 months grieving for MUM.
I believe she would have been happy and proud of me to continue my campaigning for the millions of countless individuals producing clothes and accessories in factories and workshops around the world.
INTERVIEW WITH MRS HELEN BARLOW SCOTT - ONE LINE ETHICAL DESIGN
I received the edited version of the interview I conducted with my Creative Director Mrs Helen Barlow Scott of The One Line Ethical Design Studio before she left for the UK.
Many thanks to Daniel Scott for editing the out of focus video.
Video here
COFFEE WITH NATASCIA RADICE
I managed to steal Natascia Radice away for a coffee and she very kindly modelled ''WHO MADE MY CLOTHES?'' for Fashion Revolution Day.
Natascia is creator and cofounder of TEDxDubai
EMIRATES AIRLINE LITERATURE FESTIVAL 2017
I attended two events at he Emirates Airline Literature Festival.
An evening with Jo Malone MBE and International Women's Day 2017 - BE BOLD FOR CHANGE event.
 The delicious Fig Tree fair trade chocolate
 Who made this chocolate? Bruce Crowther MBE, Director of The FIG Tree, Garstang/Lancaster UK
Who Made This Chocolate? Bruce Crowhter MBE and ME!
 Who Made This Fairtrade Bag? Friends Handicraft and Maiti Nepal
 The totally bobbles pink fairtrade bag
 Jo Malone and Me!
 International Women's Day 2017 - BE BOLD FOR CHANGE
at the Dubai Lit Festival
 Authors L-R
Kei Miller, Noura Al Noman, Candy Gourlay and Jo Malone
 The lovely Danni Melk who I met at the International Women's
Day 2017 BE BOLD FOR CHANGE event
PHOTOSHOOT FOR ODYLIQUE AND THE SIX ITEMS CHALLENGE 2017 
I conducted an impromptu photoshoot with my dear friend
Mrs Saima Tahqiq
 The Six Items Challenge with Labour Behind The Label this is my  6th consecutive year! :)
 My six items of clothing for the challenge
 This heavily embroidered zarodzi and jewel party outfit was purchased by my late mother
 This kurta (long blouse) was hand embroidered by Haseena a successful female entrepreneur, Karachi, Pakistan
 Odylique by Essential Care (Organics) Ltd
Organic, Vegan, Fairtrade, Cruelty Free and Soil Association Organic Certified Cosmetics
Odylique organic, vegan, fairtrade cruelty free makeup
WFTO ASIA'S - INTRODUCTION TO GENDER COURSE
I enrolled on the WFTO Asia's Building Capacity for Gender Equality Course designed by Tanya Lutvey.
''The course is an extension of WFTO's sixth Principle of Fair Trade – ending discrimination and promoting gender equity and freedom of association.
The majority of producers in the global informal sector are women who must contend with an employment structure that often fails to recognize their rights.
Principle Six is thus designed to strengthen the institutional mechanisms and policies necessary for protecting their interests.
By providing both women and men with the tools and knowledge to seek improved standards for employment, and training employers to act with a sense of responsibility towards all of their employees, WFTO-Asia is committed to achieving equality for all workers within our network.''
Tanya Lutvey
OVERVIEW OF THE COURSE
MODULE 1 - TERMS AND CONCEPTS
MODULE 2 - EXPRESSIONS OF GENDER
MODULE 3 - WOMENS RIGHTS IN INTERNATIONAL AND NATIONAL LAWS
MODULE 4 - PRACTICAL TOOLS FOR IMPLEMENTING GENDER
Thank you so much for reading and visiting the blog.
I look forward to recording and summarising my events for next month.
Best regards to all fairtraders and supporters around the world.
Sabeena
Further Reading and Links
One Line Ethical Graphic Design Studio
Emirates Airline Literature Festival
WFTO ASIA - Introduction to Gender