#SheLeadsTheWay #BreakTheBias International Women's Day 2022 - English and Urdu with Sabeena Z Ahmed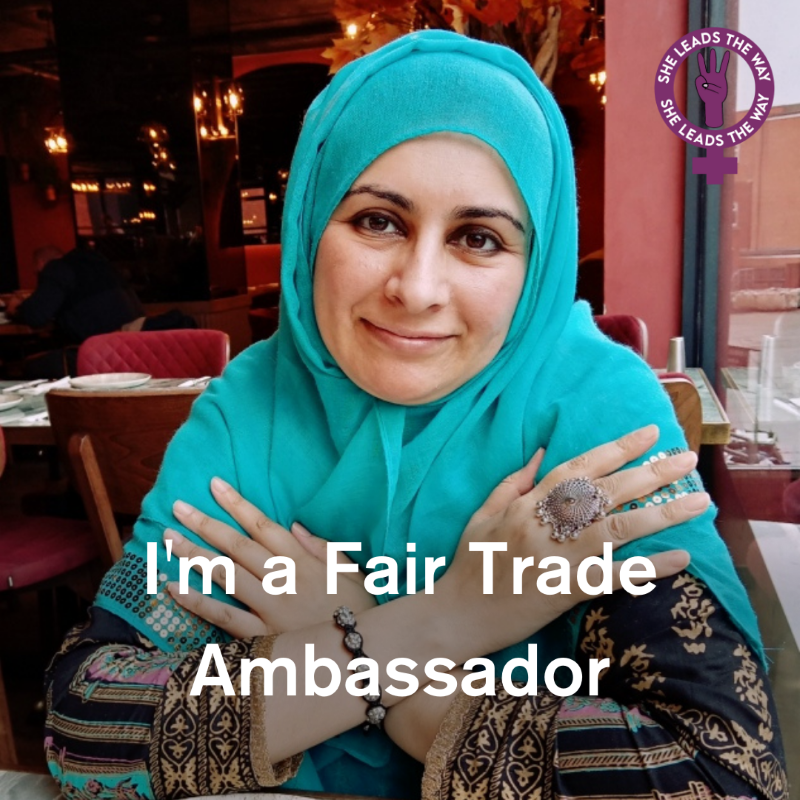 #SheLeadsTheWay #BreakTheBias -
International Women's Day 2022 with
Sabeena Z Ahmed
Hello, Assalaam Alaikum. peace and blessings everyone!
My name is Sabeena. 
السلام علیکم
میرا نام سبینہ ہے۔
میں ایک منصفانہ تجارتی سفیر، کاروباری، مہم چلانے والا، معلم اور سماجی کاروباری ہوں۔
خواتین کے عالمی دن 2022 کے لیے میرا پیغام یہ ہے!
خواتین کا عالمی دن 2022 مبارک ہو۔
I'm a fair trade ambassador, entrepreneur, campaigner, educator and social entrepreneur.
Here is is my message for International Women's Day 2022!
I support fairtrade because I believe in the the 10 Principles of Fair Trade.
The Ten Principles of Fair Trade
Video (English)
Video (Urdu)
I also attended a webinar 'What is it that Fair Trade Entrepreneurs do differently?' 
 Many thanks to all the guest speakers who participated in this discussion
Gallery
I'm a Fair Trade Ambassador
 A message from the heart to all the fair trade ladies who have supported my fair trade journey
I'd like to take this opportunity to reiterate and thank all the fairtrade women powerhouses of the world who have supported my work over the past 13 and half years.
Thank you for supporting me in 2008 when I first wrote to you about starting a Fair Trade movement in the UAE. #MonaElSayed @fairtradeegypt
 The Fair Trade Egypt Brand Logo
Thank you Roopa Mehta (Apa) @sasha_fairtrade and President of the World Fair Trade Organization for visiting me in Dxb and telling me to keep my head down and work hard!
 Roopa Mehta President of the World Fair Trade Organization
Thank you Gulshan Bibi, social entrepreneur, activist and women's empowerment advocate at Sabah Pakistan for your strength and determination. #SabahPakistan #Sungi
Me with Gulshan Bibi (Brown Scarf) and family
Sabah Pakistan Wall Hanging
Thank you to the Founder of Selyn Fairtrade, Sri Lanka Mrs Sandra Wanduragala @selynfairtrade for your passion for organic cotton and education.
 Mrs Sandra Wanduragala Founder of Selyn Sri Lanka
Thank you Wafa and the ladies from  the #NajmaAlSubah Cooperative @FairTradeLeb for your warmth and hospitality during my visit to Lebanon 2016.
 Wafa of the Najma Al Subah Cooperative
 Fair Trade Lebanon Brand Logo
Love and respect for the one and only CEO and Founder of Tara Projects Dehli, India. 
Ms Moon Sharma (Apa) for your time and kindness. Hope to see you again very soon insha'Allah! My visit to Dehli is like a dream come true!
Apa - Moon Sharma and Me
No International Women's Day would be complete without a mention for my late mother and grandmother. My Paradise!
No words to express the endless love and prayers for my beloved mother Mrs Meshar Mumtaz Bano and late grandmother Shamsun Nisa
 Me with my beloved grandmother Shamsun Nisa (late)
 My Paradise my mother Mrs Meshar Mumtaz Bano (late)
Miss you both so much!
Love, peace and blessings to all fairtrade producers and artisans on International Women's Day 2022!
Together We Are Stronger!!!
#SheLeadsTheWay
#BreakTheBias
#MuslimFemaleSocialEntrepreneur 
Further Reading and Links
The World Fair Trade Organization