Happy Fairtrade Fortnight 2017 from Dubai, UAE!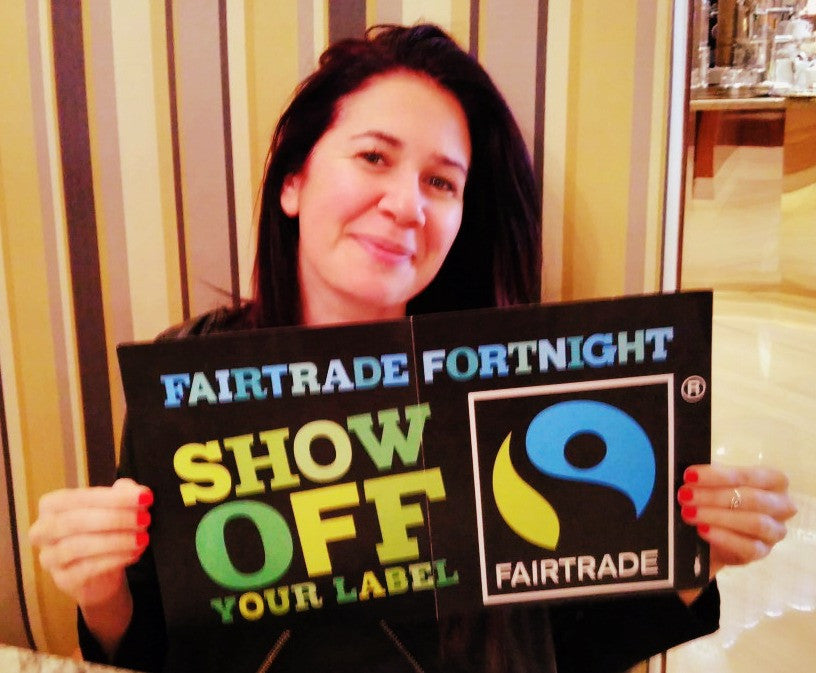 Fairtrade Fortnight Summary 2017 - Dubai, UAE
This year fairtrade fortnight commences Monday 27 February - Sunday 12 March 2017.
This years catchy slogan is
''It's time to put fairtrade in your break.''
Many thanks to Mrs Helen Barlow Scott of the One Line Ethical Graphic Design Studio for graciously participating in this video and Mr Andy Ashcroft of Koolskools UK for printing The Little Fair Trade Shop Logo on our beautiful fairtrade organic cotton Polo Shirts. :)
WEEK ONE
 Helen and Sabeena
Interview with Helen Barlow Scott
Many thanks to Helen for conducting this impromptu interview on her last day in Dubai.
 Natascia Radice - My Fair Trade Angel
Afternoon tea designed by Nadiya Hussain and I managed to presented her with fairtrade chocolates handmade
by Bruce Crowther MBE.
 Her Majesty's Cake
Saima, Nadiya and ME!
Edited version
 Fairtrade chocolate gift bag handmade and lovingly produced by Bruce Crowther MBE Director of THE FIG TREE, UK
 My signed copy of Nadiya's book
WEEK TWO
 Fairtrade chocolate produced by Bruce Crowther MBE
Lovingly produced by Bruce Crowther MBE at The FIG Tree, UK
Bean to Bar Chocolate produced by Bruce Crowther MBE
 Fairtrade Pink Totally Bobbles Bag produced by ladies at
Friends Handicraft and Maiti Nepal
Jo Malone MBE and ME!
BE BOLD FOR CHANGE - INTERNATIONAL WOMEN'S DAY 2017
 Danni Melk and ME!
ODYLIQUE MAKE UP PHOTO SHOOT FOR FAIRTRADE FORTNIGHT 2017
 Odylique - Vegan, Organic, Soil Association Certified make up
Odylique vegan, organic, fairtrade and Soil Association Organic certified make up
Further Reading and Links
Fairtrade Foundation Fairtrade Fortnight Action Guide 2017
One Line Ethical Graphic Design Studio 
Emirates Airline Literature Festival