Fair Trade Pioneers - Bruce Crowther MBE, The FIG Tree, United Kingdom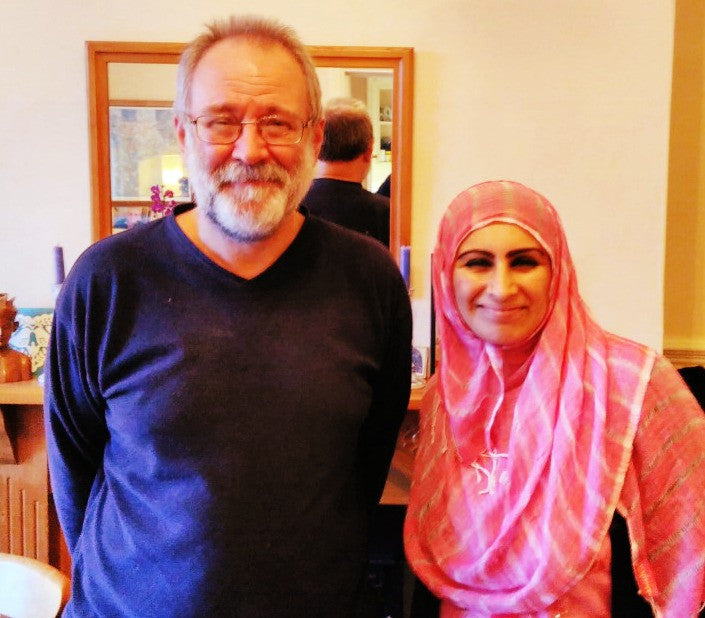 Fair Trade Pioneers
Bruce Crowther MBE, The FIG Tree, United Kingdom
THE FIG TREE
The Fig Tree can proudly boast that it is the only first fair trade visitors centre and café in the world.
I visited the Fig Tree October 2011, August 2012 and November 2016.
 Bruce Crowther MBE at The Lancaster Priory
ABOUT BRUCE CROWTHER MBE
INTRODUCTION
Bruce Crowther MBE – Founder, Fair Trade Town Movement and Fair Trade Activist

Bruce Crowther a vet by profession was awarded the MBE for services to Fairtrade and Oxfam.
He was included in the former UK Prime Minister Gordon Brown's book 'Everyday Heroes.'
He now serves as Executive Director for the FIG Tree and was the International Fair Trade Towns Ambassador for the International Fair Trade Towns Steering Committee for many years.
A vet by profession, Bruce Crowther is an experienced activist who began campaigning for Oxfam in 1984. A fervent and vocal Fairtrade campaigner that he managed to persuade his fellow residents in the small market town of Garstang in Lancashire where he lived with his family and practised as a vet, to declare itself the world's first Fairtrade Town in 2000. 
Bruce went from shop to shop and visited all the local businesses, asking them to make a commitment to Fairtrade. Enthusiasm gathered and the local council signed a pledge to use or sell Fairtrade products where possible, and most of the town's traders started selling or using Fairtrade products.
Following his efforts, Garstang, with its population of just 5,000, inspired the Fairtrade Foundation to develop the Fairtrade Towns campaign and 560 towns and cities to date all over the world have since received Fairtrade status. 
Crowther says, "Shortly after Garstang became the world's first Fairtrade Town, I realised that we had to make the link between farmers in developing countries and local farmers, who also struggle to get a fair price for their produce. When Bowland hill farmers are forced to sell their lamb for less than the cost of production, it could just as easily be a coffee farmer in Peru or a cocoa farmer in Ghana."
 
In 2009, Crowther was awarded an MBE in the New Year honours list for services to Fairtrade and Oxfam.
The honour recognises his work supporting developing countries through Fairtrade Towns, Oxfam and the twinning link between his home town of Garstang in Lancashire and New Koforidua in Ghana.
Receiving the award, Crowther said, "I'm just one of millions of people who care about the poverty and inequality that underlies most, if not all that is wrong in our unjust world. I hope by accepting this award on behalf of this mass movement of people it will help to promote even greater awareness of poverty and the part we all play in it."
Crowther now works full-time as the Director of The FIG Tree producing delicious fair trade chocolate and works from home in Garstang.
Bruce Crowthers other honours include being made a sub-chief in New Koforidua in the Ashanti region of Ghana, where he received the Beacon prize for creative giving in 2004. In 2007, he was included in Gordon Brown's book Britain's Everyday Heroes, which is a collection of real life stories about ordinary people whose enthusiastic commitment has made a great difference to their communities through the "power of personal relationships."
 
In 1992, Crowther formed the Garstang Oxfam Group and was Chair until 2002. The Oxfam Group was instrumental in making Garstang the worlds' first Fairtrade Town in April 2000 (officially recognised in November 2001).
Bruce now Chairs the Garstang Fairtrade Group and the Garstang And New Koforidua Linking Association.
Bruce lives in Garstang with his wife and three children.
 
The FIG Tree is the world's first international Fair Trade Visitor Centre. Originally opened in 2011 in Garstang (the worlds first far trade town) but recently moved to Lancaster.
The people of Garstang voted for their unique status at a public meeting in April 2000 and since then over 1,500 Fair Trade Towns in 25 countries worldwide, including London, Paris, Rome, Madrid, Brussels, Copenhagen, Oslo, Chicago, San Francisco, Boston, Vancouver and Wellington in New Zealand have all followed in Garstang's footsteps.
Sadly The FIG Tree closed in Garstang in November 2014, reopened in St. John's Church, Lancaster. St. John's Church was built in 1754 by Lancaster traders at the height of the British Transatlantic slave trade, at the time Lancaster was Britain's fourth largest slave trade port.
The FIG Tree has now found a new home at The Priory, Lancaster which I visited last month.
 
Information taken from the Green Solutions Magazine and The FIG Tree website.
VISIT TO THE FIG TREE, BEAN TO BAR CHOCOLATE MASTER CLASS AND INTERVIEW WITH BRUCE CROWTHER MBE - NOVEMBER 2016
I had the good fortune to visit Bruce Crowther, MBE during November 2016 and spent a morning learning how to produce fair trade chocolate bean to bar.
The cocoa grown by Fredrick in Ghana.
Fredrick is a member of the Kuapa Kukoo Farmers Cooperative Ghana, and it was wonderful feeling knowing he had grown the cocoa for our chocolate.
Before we started our chocolate master class Bruce took me to the Lancaster Priory which is the new home to THE FIG TREE.
 The Lancaster Priory
Fairtrade products at The FIG Tree, the Lancaster Priory
CHOCOLATE MASTER CLASS
We began our chocolate making at the crack of dawn and I was nervous not to make any mistakes and spoil Bruce's batch of chocolate.
I have posted all the photographs chronologically as we produced the chocolate.
Interview to be added
video currently edited
Chocolate Masterclass Photo's
 Fredrick's fair trade cocoa beans roasted shells intact
 Grinding the cocoa beans into a thick chocolate liquor
Refining the cocoa until it was smooth and flowed easily
 Measuring the temperature
 Fine sugar
 Bruce adding and mixing sugar to the chocolate liquor
 Bruce measuring cocoa butter
 Final produce fair trade chocolate read to eat
 Delicious fair trade Fig Tree chocolate
 The Fig Tree Chocolate
 The Fig Tree Chocolate
 Bruce Crowther MBE and me!
 I presented Nadiya Hussain chocolate I had produced
with Bruce Crowther MBE
 I also presented Jo Malone with fair trade chocolate produced
by Bruce Crowther MBE and me!
VISIT TO THE FIG TREE OCTOBER 2011
Located; High Street, Garstang, Preston, United Kingdom, the centre is a short hop from Preston and Lancaster.
I first visited The Fig Tree October 2011 when it was a mere shell and was invited to a fair trade tea party, August 2012.
The enthusiasm, passion and the warm welcome I received was overwhelming and humbling. I was impressed by its amazing transformation.
I loved The Fig Tree logo as a feature on the cafe wall and the Nelson Mandela quotes in the adjacent workshop.
The Fig Tree offers a wonderful range fair trade products, fair trade beverages, tea, coffee, hot chocolate and mouth watering home made cakes and biscuits are on offer daily.
It also showcases the history of the Quakers and the abolition of the slave trade through exhibits and learning materials. Everything you ever want to know about fair trade can be found here. 
Supporting local farmers and producers, ice cream and other local produce can also be tried and tasted to your hearts content.
The large café can boldly accommodate, 40-60 customers. I thoroughly enjoyed the home made scones and chocolate cake. :)
The centre offers chocolate workshops for local schools and tourists as Garstang's has strong links with the cocoa farming community in Africa's first Fair Trade Town of New Koforidua in Ghana.
The management team also organises The Fair Trade Way, the world's first long-distance fair trade heritage trail. The trail starts at The Fig Tree, Garstang and connect through the fair trade towns of Lancaster, Arnside, Kendal, Windermere, Grasmere and Keswick, Cumbria.
Mr. Bruce Crowther will personally take you on a tour of the market town of Garstang, however, I would advise that you write to him well in advance of your visit with your requirements.
The concept for this educational centre and cafe was devised by director Mr. Bruce Crowther MBE, Ms. Rita Verity of Sonia's Smiles, Haworth, Christina Longden of The Lorna Young Foundation, Huddersfield, other key members of the fair trade community not forgetting the many selfless volunteers who make this building the epicentre for fair trade in the United Kingdom and inspiration for many fair trade international movements.
Garstang became the world's first Fair Trade Town and has inspired the fair trade towns movement globally.
At a Public Town Meeting on Thursday 27th April 2000 the people of Garstang voted virtually unanimously for Garstang to become the world's first Fairtrade Town.
I would highly recommend all ethically responsible individuals and fair trade supporters to visit this pioneering institute. I hope to return to Garstang every year and support Mr. Crowther and his dedicated team.
Opening times: Monday, Thursday, Friday and Saturday 9am-5pm. Tuesday's and Wednesday's by arrangement. Sunday's: 11am-5pm
Access for wheelchairs and pushchairs is available with a large car park available at the rear of the centre.
Parking is approximately 2.00-2.50 per hour. Toilets are available and fair trade soap and toiletries are at your disposal.
Please visit the website for upcoming events and news.
http://www.fairtradecentre.org/ or write to; info@fairtradecentre.org
Watch: Tea at The Fig Tree, August 5th 2012
How to get to Garstang
Garstang is a pretty market town situated on the banks of the River Wyre. It lies in a rural location between the larger conurbations of Preston to the south and Lancaster to the north. It is also the gateway to the Forest of Bowland, an area of outstanding natural beauty.
It is easily accessible via the M6 or A6.
Garstang is just a short ride from the Lake District, coastal Blackpool or historic Lancaster. After a short stroll along the Lancaster Canal or a hike in the fells you will soon confirm this is a part of England just too good to be missed.
By Train or Bus Traveline Public Transport: 0870 608 2608
National Rail: 0845 748 4950
Further Reading and Links