Our We Are Gold collection where beautiful products with a touch of glitter meet artisan crafts.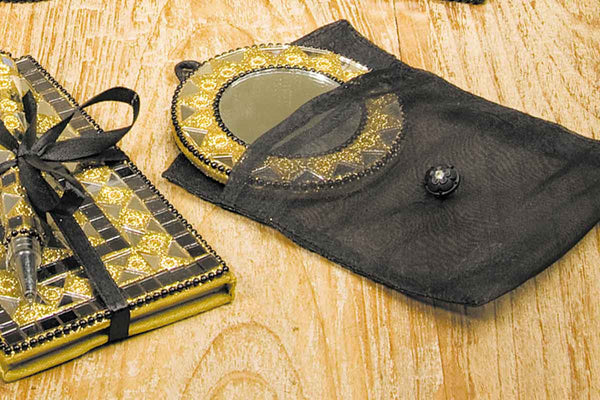 Fair Trade Black & Gold Embroidered Beaded Pocket Mirror
$9.00 USD
This circular handbag mirror has been adorned with mosaic mirror pieces and is presented in this stylish organza silk bag.

Approx. Size: 7.4 x 0.6 x 7.4cm

Material: Satin organza, mirror and beadwork.

As this product is handmade, each is one of a kind and may vary slightly.

Namaste is a UK based fair trade retail and wholesaler whose philosophy is simple; "fantastic, ethically sourced and yet commercial products to maximise sales and therefore maximise benefits."

Find out more about Namaste.
---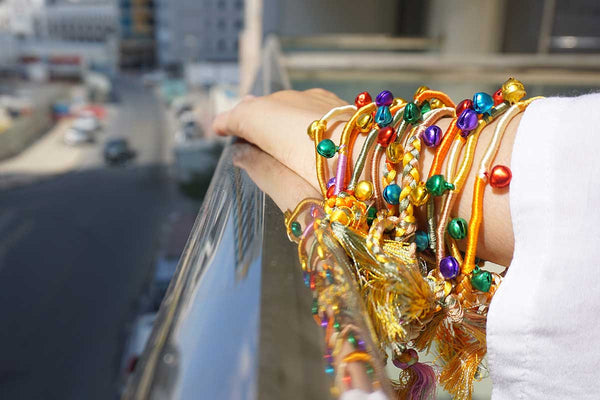 Fair Trade Singing Bells Bracelets Set of 2
$13.00 USD
Adorable colourful singing bell bracelets. A great friendship gift that's fun, unique and looks fabulous on any wrist.

Size:  35-36.5cm

Material: Cotton & Bells

Assorted colours and designs. As this product is handmade, each is one of a kind and may vary slightly.

 

All Namaste products are traded fairly. Namaste seeks to support marginalised small producers and help workers to move from income insecurity to economic self sufficiency. The manufacture of goods for

Namaste

generates income and enriches the quality of life for artisan producers.
---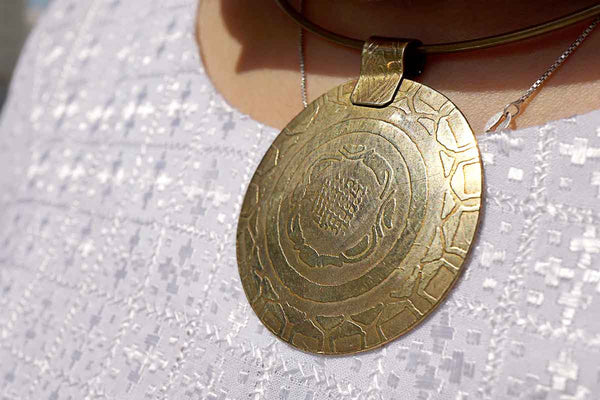 Brass Medallion Necklace
$20.00 USD
Handcrafted by artisans in Cairo this beautiful brass fair trade choker is a gorgeous addition to any outfit. Embossed with a traditional Egyptian pattern it has been designed with a unique brass clasp for ease of use and wear.

Approx. Size: 38cm length, brass embossed circle 5.2cm

Material: Brass

As this product is handmade, each is one of a kind and may vary slightly.

WFTO member Fair Trade Egypt Crafts (FTE) empowers local communities by offering disadvantaged artisans in Egypt an opportunity to market and develop their craft. Established in 1998 FTE has benefited from the Direction of Managing Director, Mona El-Sayed who spent one year touring Egypt and gathering data about every single artisan group in order to develop a sustainable business model which could preserve the traditional crafts in a continually modernising market place.
---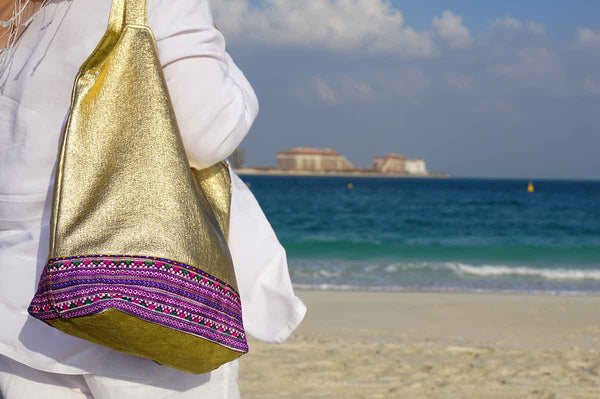 Gold Embroidered Tote Bag
$55.00 USD
Tribal Chic! Add a touch of glamour to your day with this authentic Tote Bag. Perfectly designed to hold your everyday essentials the interior has been spaciously designed with a discrete interior pocket. Beautifully finished with intricate Lahu embroidery trim. A must have for all ethical fashionistas.

Approx. Size: 38 x 32 x 18cm, strap length 50cm

Material: Canvas and Hmong up-cycled fabric with Lahu embroidery.

As this product is handmade, each is one of a kind and may vary slightly.

Thai Tribal Crafts (TTC), established in 1973 is Fair Trading Organization providing development opportunities for the tribal peoples of Northern Thailand and preserving traditional craftsmanship.
Producers of embroidery, appliqué, patchwork: The Lisu, Hmong, Mien, Lahu and Akha tribes form the majority of the producers, with about 50 villages supported through the project.
Discover more about TTC on our Meet The Artisans page.
---