Real leather fair trade ladies wallets and gold glittery fair trade tote bag.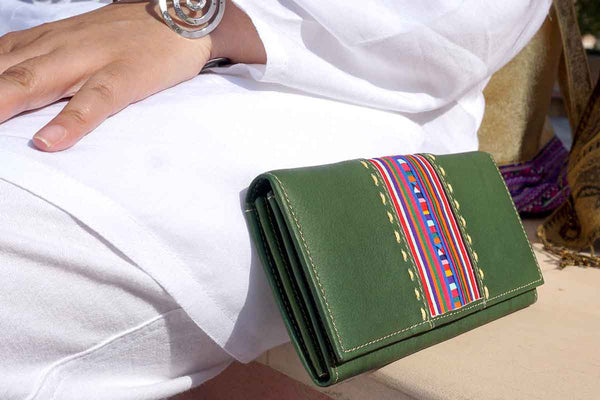 Leather Wallet Lisu Appliqué
Sold Out
Exclusively designed by Mr Toshinori Takasawa, artisans from Sribandon Village in Thailand produce these bespoke Lisu applique and genuine leather products. Generous interior for credit cards and international currencies.

Wallet holds 8 credit cards, features two large pockets for change, one zip pocket and two discrete pockets cleverly designed behind the credit card section.

Size: 20 x 10 x 2cm

Material: Leather & Lisu Appliqué

As this product is handmade, each is one of a kind and may vary slightly.

The Lisu are direct descendants of the indigenous semi-nomadic tribes of Tibet. Over the last 300 years or so for political and survival reasons many have chosen to migrate to Thailand where they sustain a living through handicrafts. There they are able to sell their products through fair trade producer group Thai Tribal Crafts (TTC). The embellishments and appliqué used in this purse reflect the traditional patterns used by the Lisu people to embellish their clothes.
---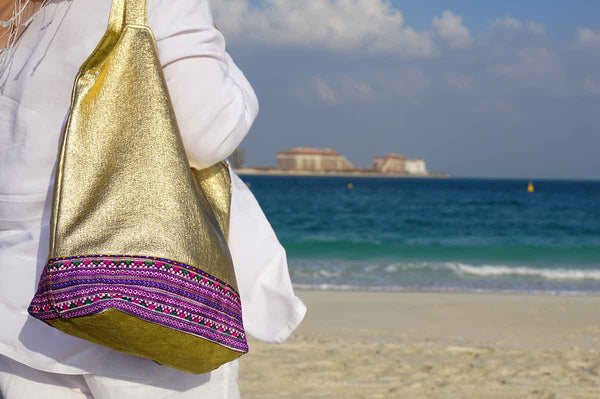 Gold Embroidered Tote Bag
$55.00 USD
Tribal Chic! Add a touch of glamour to your day with this authentic Tote Bag. Perfectly designed to hold your everyday essentials the interior has been spaciously designed with a discrete interior pocket. Beautifully finished with intricate Lahu embroidery trim. A must have for all ethical fashionistas.

Approx. Size: 38 x 32 x 18cm, strap length 50cm

Material: Canvas and Hmong up-cycled fabric with Lahu embroidery.

As this product is handmade, each is one of a kind and may vary slightly.

Thai Tribal Crafts (TTC), established in 1973 is Fair Trading Organization providing development opportunities for the tribal peoples of Northern Thailand and preserving traditional craftsmanship.
Producers of embroidery, appliqué, patchwork: The Lisu, Hmong, Mien, Lahu and Akha tribes form the majority of the producers, with about 50 villages supported through the project.
Discover more about TTC on our Meet The Artisans page.
---