Luxurious black fair trade ethical fashion and lifestyle gifts.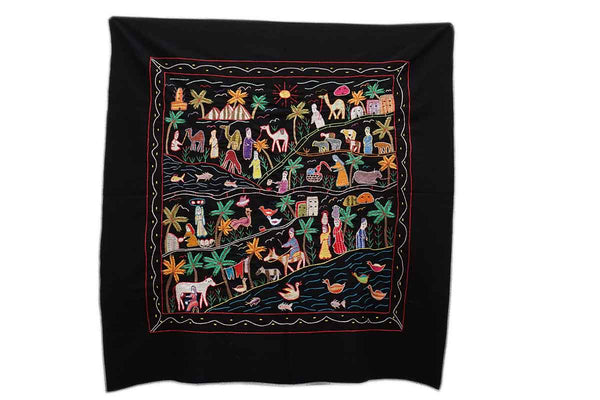 Fair Trade Hand Embroidered Wall Hanging Black Large
Sold Out
This exquisite multicoloured hand embroidered wall hanging is a unique fair trade artistic treasure. Each one has been lovingly produced by a female artisan who has carefully embroidered her childhood memories on a blank cotton canvas.A beautiful centre piece for any living room.

Approx. Size: L102cm x W0.4cm x H107cm.

Material:Cotton

As this product is handmade, each is one of a kind and may vary slightly.

The Mottamadaya Women's Association represents the female population of Mottamadaya, Cairo, many of whom are migrants from Upper Egypt.

To alleviate the dire financial needs of their families, the women stitch colourful scenes and landscape motifs on canvas of various sizes and functions. These canvases are then made into bags, purses or cushion covers. The designs depict country-life which reflects childhood memories of the women.
---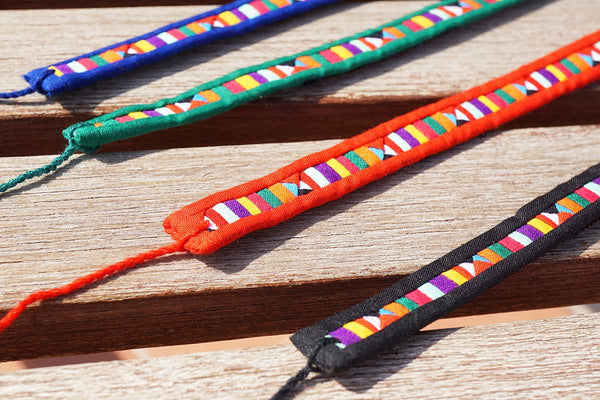 Lisu Handmade Wristbands
$5.50 USD
Handmade by the women of the Lisu tribes in Northern Thailand. Lisu women traditionally dress in layers of cotton of the same style.

Approx. Size: 11cm

Material: Cotton & Appliqué

As this product is handmade, each is one of a kind and may vary slightly.

The Lisu are direct descendants of the indigenous semi-nomadic tribes of Tibet. Over the last 300 years or so for political and survival reasons many have chosen to migrate to Thailand where they sustain a living through handicrafts. There they are able to sell their products through fair trade group Thai Tribal Crafts.
---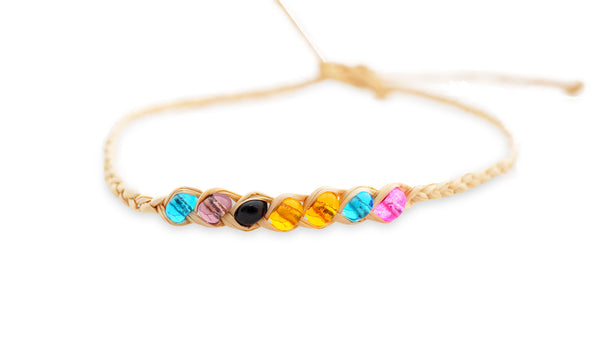 Palm Leaf Bracelet With Coloured Beads
$5.00 USD
Delicate, chic and strong. These cute shell and bead wristbands can also be worn on the ankle as a novel beach accessory.

Approx. Size: 28x33x1cm

Material: Palm Leaf Strap & Beads

Assorted designs, please contact us for custom order. As this product is handmade, each is one of a kind and may vary slightly.

Using all natural materials Tumi was founded by Mo Fini in 1978 with the sole intention of promoting fair trade crafts and goods within Latin America. Tumi works with gifted jewellery artisans across Latin America to bring you these truly unique fair trade gifts.
---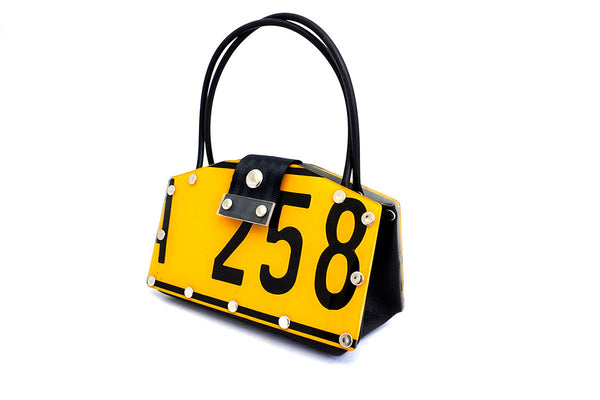 Recycled Number Plate Handbag
$50.00 USD
Guaranteed to make heads turn and smile. This innovative bag is made from recycled number plates sourced from the apartheid era of South Africa.
The Half Moon Mandela Bag is produced using synthetic leather and has an innovative clasp made from up-cycled seat belts and handles that are up-cycled garden irrigation systems. Each number plate on the bag is unique therefore the bags do not always correspond to the figures shown.
We love how it reflects at night!

Approx. Size:  24 x 12 x 10cm, strap length from shoulder approx 61cm

Material: Recycled number plates, recycled seat belt and garden irrigation systems.

As this product is handmade, each is one of a kind and may vary slightly.

Designed by Austrian Peter Kronig and his team of artisans Cape Town South Africa. Peter a professional surf instructor was challenged by his friends during a holiday to South Africa to produce artistic and practical bags from recycled and discarded items. He accepted the challenge and began production on various designs using car registration plates, seat belts and garden irrigation systems. Peter works with a small team of artisans who are paid fairly and work in good conditions in his Cape Town workshop.
---